Kid's Page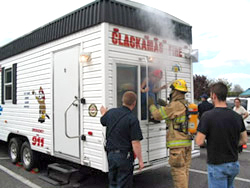 According to the National Fire Protection Association (NFPA), suffering a devastating loss from a residential fire is a widespread tragedy in North America that is often preventable. In recent years in the U.S., fires have caused an estimated average of 2,570 civilian deaths, 13,210 civilian injuries, and $7.2 billion in direct property damage per year.  Safe Kids notes that children are particularly vulnerable to fire.  Young children are especially vulnerable to burn-related injuries and death. Children do not always perceive danger, they have less control of their environment, and they have a limited ability to react promptly and properly to a burn situation.  It is very important for parents or caregivers to plan ahead to keep family members safe from fire.  The following tips may help to prevent fires and plan what to do in case of fire:
Make an escape plan
It is important to have a plan for children in the home. Children sometimes need help getting out of the house, and they may not know how to escape or what to do unless an adult shows them.
Have a plan for young children who cannot get outside by themselves. You will need to wake babies and very young children and help them get out. In your plan, talk about who will help each child get out safely.
Know two ways out of every room. It is important to find two ways out of every room in the house, in case one exit is blocked or dangerous to use.
Choose a meeting place outside the home. Children should know what to do when they hear a smoke alarm and there is no adult around. Help them practice going to the outside meeting place. Teach them to never go back inside a building that is on fire.
Keep children safe from fire and burns
Some children are curious about fire. There are simple steps you can take to keep you and the people you love safer from fire and burns.
Keep children 3 feet away from anything that can get hot. Space heaters and stove-tops can cause terrible burns. Keep children at least 3 feet away from stoves, heaters or anything that gets hot.
Keep smoking materials locked up in a high place. Never leave cigarette lighters or matches where children can reach them.
Never play with lighters or matches when you are with your children. Children may try to do the same things they see you do.
For questions and/or more information regarding Fire and Life Safety Education, contact the Clackamas Fire District #1 Fire Prevention Division 503-742-2660.
Fun Links