Every call to 911 is a call for help, but not every call is a medical emergency.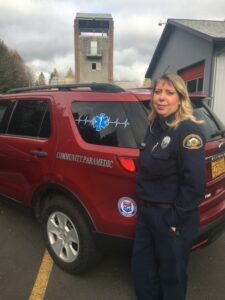 Clackamas Fire's Community Paramedic Program links patients with the community services they need. The program aims to fill in the gaps, advocates for community members, and provides a platform for health equity that facilitates a healthier Clackamas County.
How Can We Help
The community paramedic follows up with at-risk patients through a phone call or home visit to find out what's behind the multiple calls to 911. In addition to a medical assessment, there is a home safety survey to prevent falls and other risks.
Types of assistance:
Access to care – Increase access to care through agency referrals
Alcohol and drug Misuse – Identifying and engaging those surviving an opioid overdose or suffering from a substance use disorder with recovery resources, peer recovery mentors, and barrier reduction/removal (This portion of the program is called, Project Hope).
Vaccinations – In partnership with Clackamas County Public Health and the Oregon Health Authority, we're able to provide Flu, Hepatitis A and B, and COVID-19 vaccines to houseless and vulnerable populations.
Outreaches – Referrals for planned and emergent outreaches are made by fire agencies, law enforcement, Clackamas Mental Health Center (i.e., crisis center), Adult Protective Services, hospitals, and any County agency or community-based organization that feels a community member could benefit from additional services. These outreaches provide medical direction, referrals, barrier identification, and assistance to access resources. The partnerships with county and community-based agencies increases opportunities to provide health equity to populations that traditionally go underserved and have poor health outcomes.
The goal is to help clients remain in their home, safe without the need for emergency medical care.
All our services are free to residents of Clackamas Fire
Patient Referrals

Patients who have called 911 two times in 24-hours or three times over 30-days are automatically referred to the Community Paramedic Program.

Firefighters often call for a community paramedic to assist them on a scene or may refer a patient for follow-up services. Hospitals and social services may also make referrals.

Family members of patients we've seen on 911 calls can also contact our program to ask for assistance.
Program Staffing

Our team includes a community paramedic/firefighter, who oversees the program and a community paramedic contracted through grant funding and work Monday through Thursday from 7:00 a.m. to 5:00 p.m.
Community Partners

Clackamas Fire partners with Clackamas County Public Health and various social services agencies that can provide patients with assistance that is often less costly and more effective than medical services in meeting their true needs.

The program was initially funded by Health Share. It began in 2016 as one of the first fire agencies in provide this type of service in Oregon. After the pilot, Clackamas Fire saw what a positive impact Community Medicine had on the community and decided to fund the program with a full-time Community Paramedic.
Success Stories

The goal of our Community Paramedic Program is to provide community advocacy and improve the quality of life for those in need. Often that comes with the reduction of 911 calls as a more sustainable care plan is reached. At times, we have reduced high users by 81%. We have many success stories where services were provided to meet clients' needs that can't be provided in the emergency room.

Click HERE to share your story.