Apparatus Showcase
Clackamas Fire District #1 responds to a wide variety of emergencies. Each incident is different and sometimes requires unique apparatus to handle the situation.
Here is a brief overview of the various types of apparatus Clackamas Fire uses to respond to emergencies throughout our fire district.
Fire Engine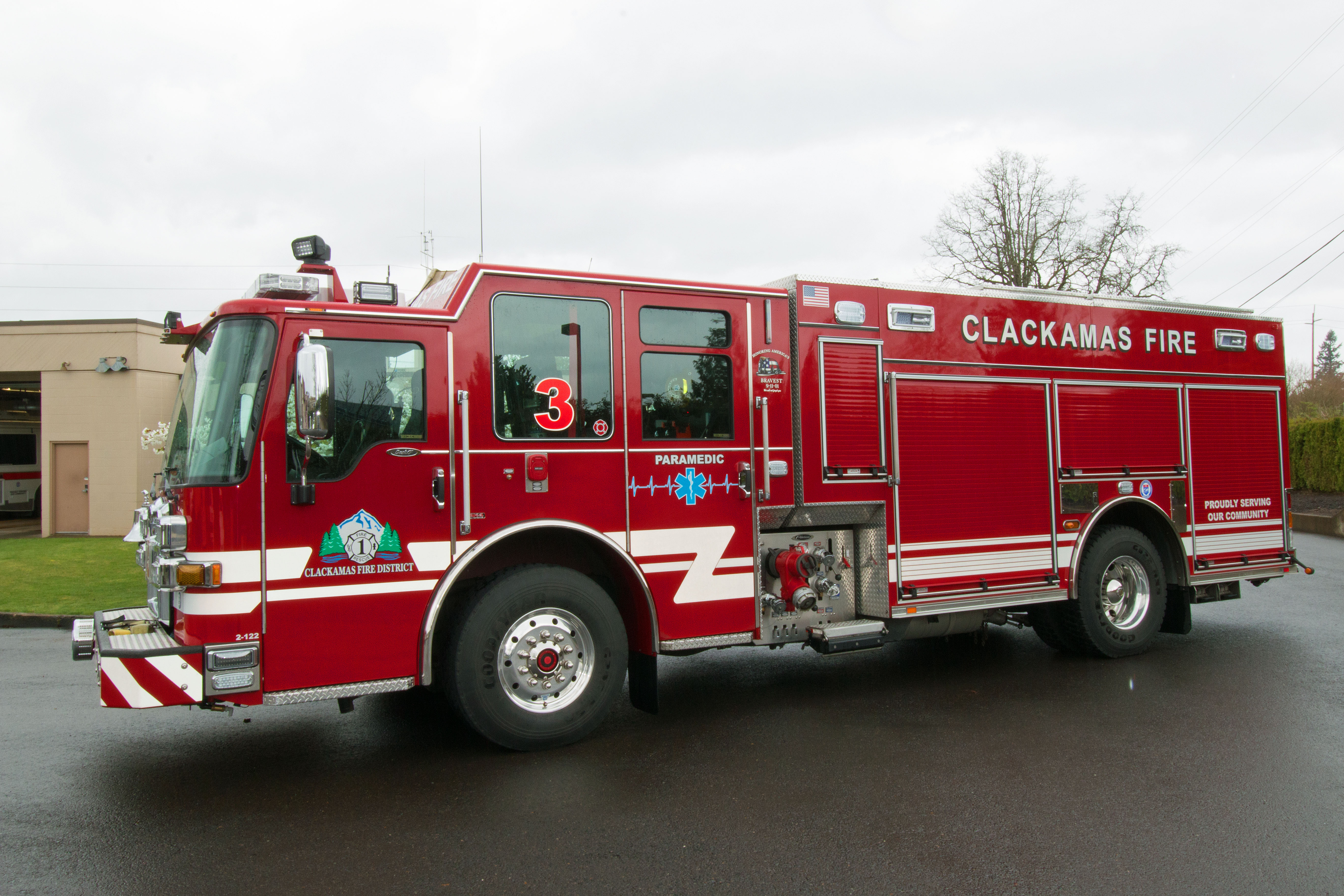 Fire engines are the primary apparatus that Clackamas Fire District #1 uses to respond to emergencies in the community. They are staffed by three or four firefighters and are equipped with a wide range of tools including advanced emergency medical supplies, hand tools such as axes and pike poles, ladders and more.
Aside from responding to medical emergencies, traffic collisions or other types of public assistance calls – the primary function of a fire engine is to supply water for fire suppression. Each fire engine can pump water, carries its own water supply and carries fire hose.
When it comes to fire suppression, Clackamas Fire District #1 utilizes two types of firefighting apparatus, engines and trucks. Both of these vehicles are referred to as a "Company".  The term "Engine Company"  refers only to a fire engine – as described above. The term "Truck Company" is used to refer to a ladder truck.
Ladder Truck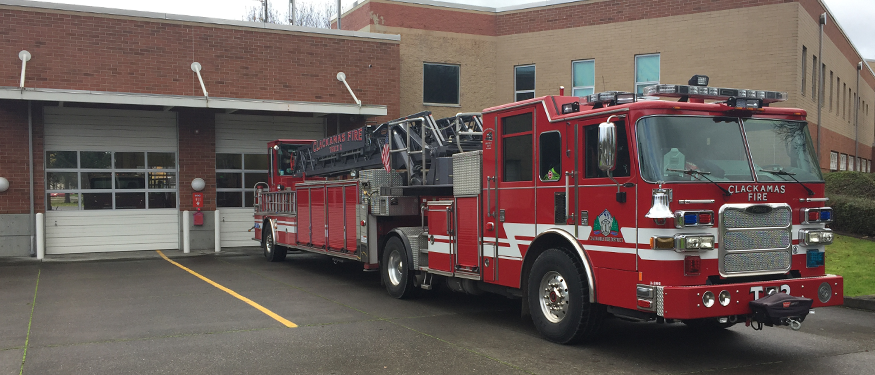 Ladder trucks are the second of two primary firefighting apparatus used by Clackamas Fire District #1. They are staffed by four firefighters and are equipped with advanced emergency medical supplies, and a large assortment of tools used for ventilation, rescue, forcible entry, vehicle extrication, and more.
Truck companies are also often specialty trained in areas such as Urban Search and Rescue (USAR) and Swift Water Rescue.
All Clackamas Fire District #1 ladder trucks are equipped with a 100′ aerial ladder as well as a wide assortment of ground ladders. Currently, Clackamas Fire District #1 utilizes both straight-frame and tractor-drawn aerial (pictured) ladder trucks.
Medic Unit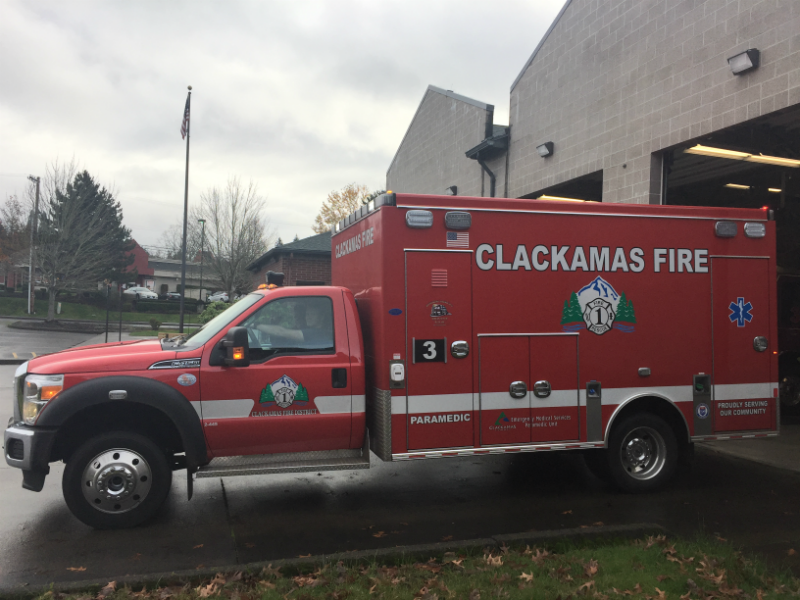 Medic units are staffed with two Firefighter/Paramedics who are trained in advanced life support and can perform many life saving interventions such as IV drug therapy, advanced airway (intubation) techniques, defibrillation and more.
Medic Units are primarily used to respond to medical emergencies but are also dispatched to motor vehicle accidents, structure fires or wherever their services might be needed.
Clackamas Fire District #1 also uses medic units as transport ambulances when the primary ambulance service (American Medical Response) does not have a unit available or close to the call due to a large number of incidents happening at one time.
Heavy Rescue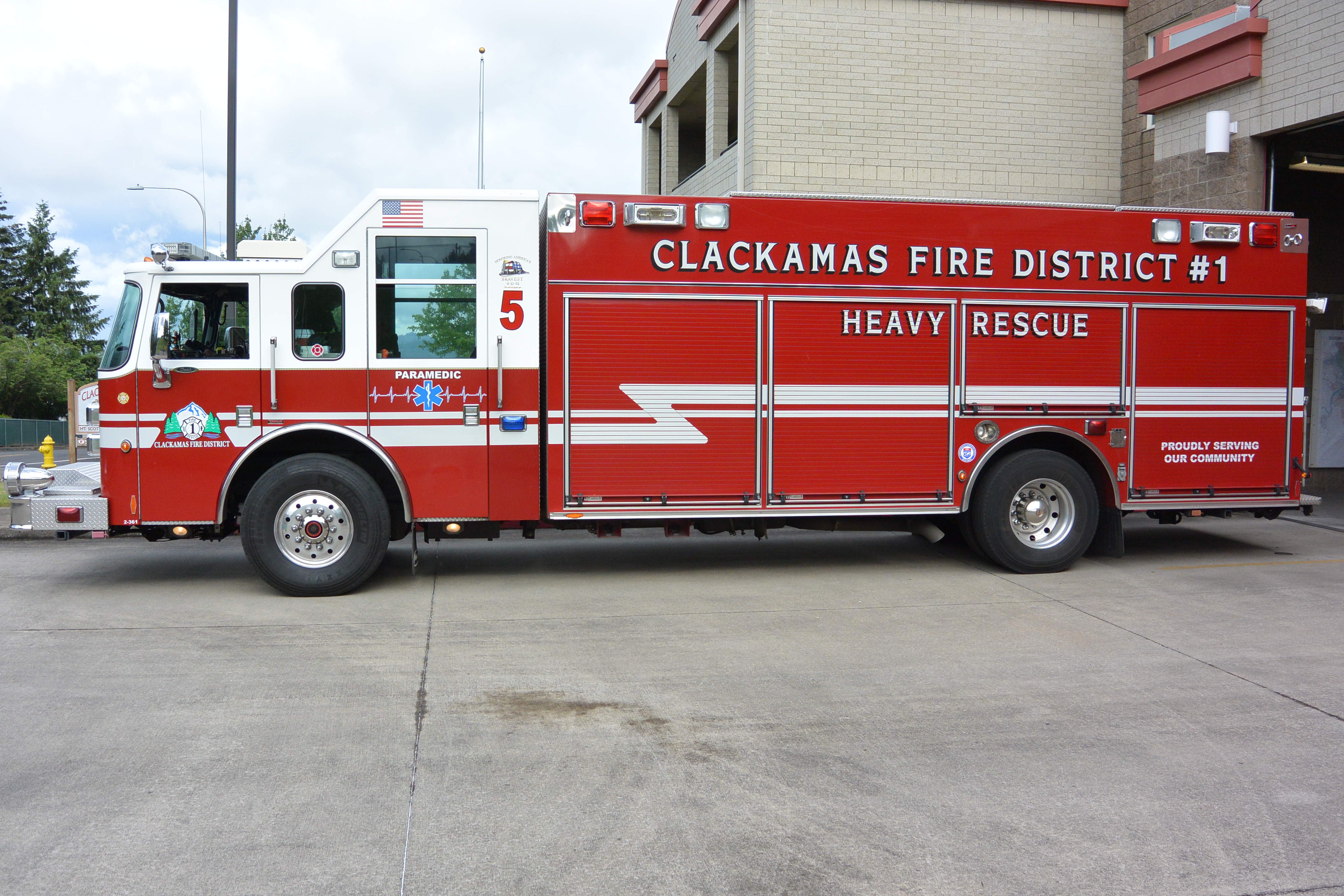 The Heavy Rescue unit provides specialized equipment necessary for technical rescue situations such as traffic collisions requiring vehicle extrication, building collapses, confined space rescue and rope rescues.
They carry an array of special equipment such as the jaws-of-life, wooden cribbing, generators, winches, hi-lift jacks, cutting torches, circular saws and other forms of heavy equipment unavailable on standard ladder trucks.
Aside from responding to specialty calls, the heavy rescue also responds to every structure fire in the fire district. Upon their arrival to a fire, they are typically assigned tasks such as search or ventilation.
Water Tender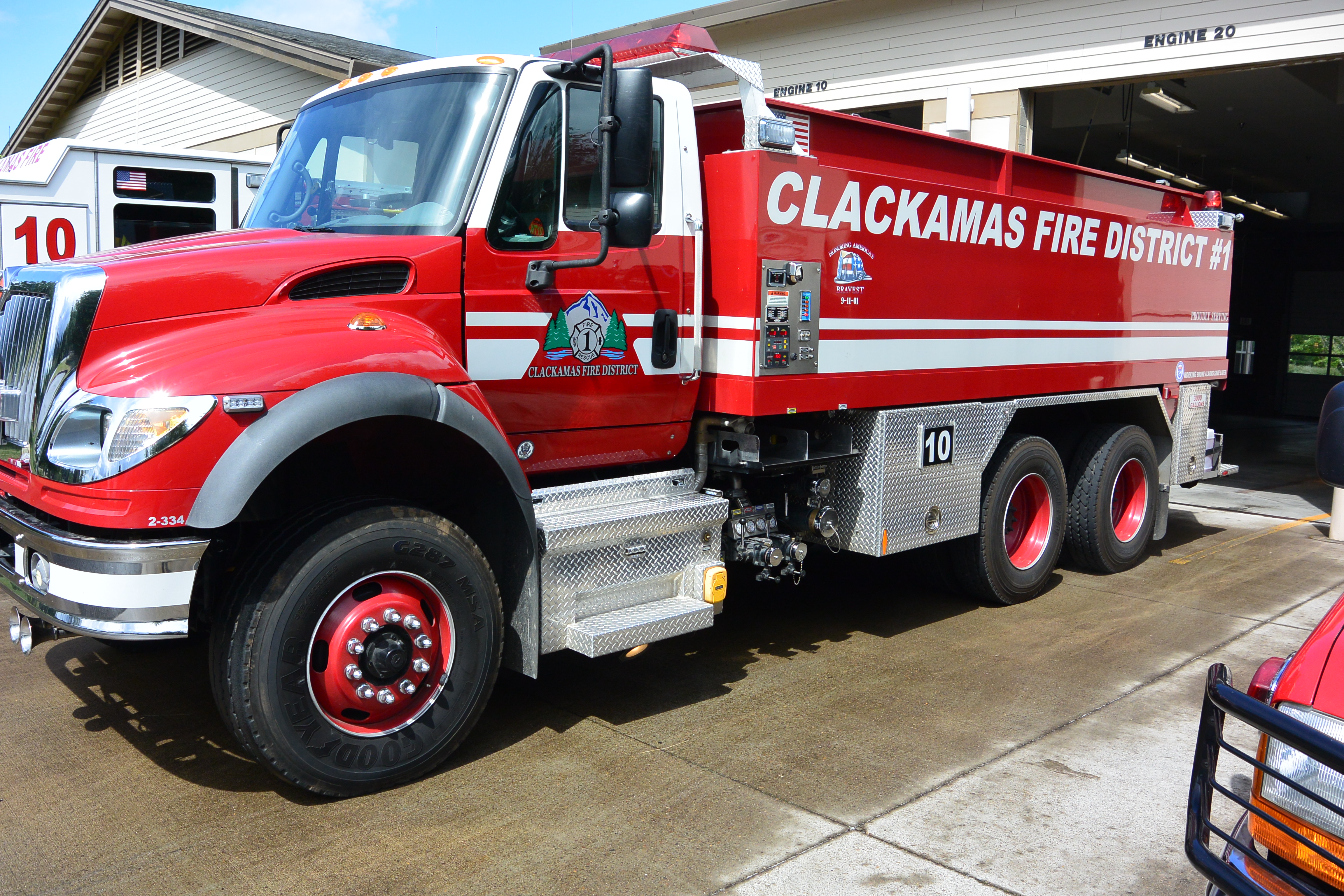 Water tenders are designed for transporting water to the fire scene. In rural settings where access to fire hydrants is limited, water tenders provide water to fire engines in the event where the water from their water tanks isn't enough. Clackamas Fire District # 1 water tenders can carry up to 3,000 gallons in their tanks.
At a large fire scene where large amounts of water is being used, water tenders are able to draft water from streams or lakes around the area to bring back to the fire scene. Clackamas Fire District #1 has specified certain lakes, streams and water tanks within the fire district that are preferred draft sites. These sites are set up for quick and easy access and ensure that when they are needed, they provide the necessary water quickly and efficiently.
Brush Rig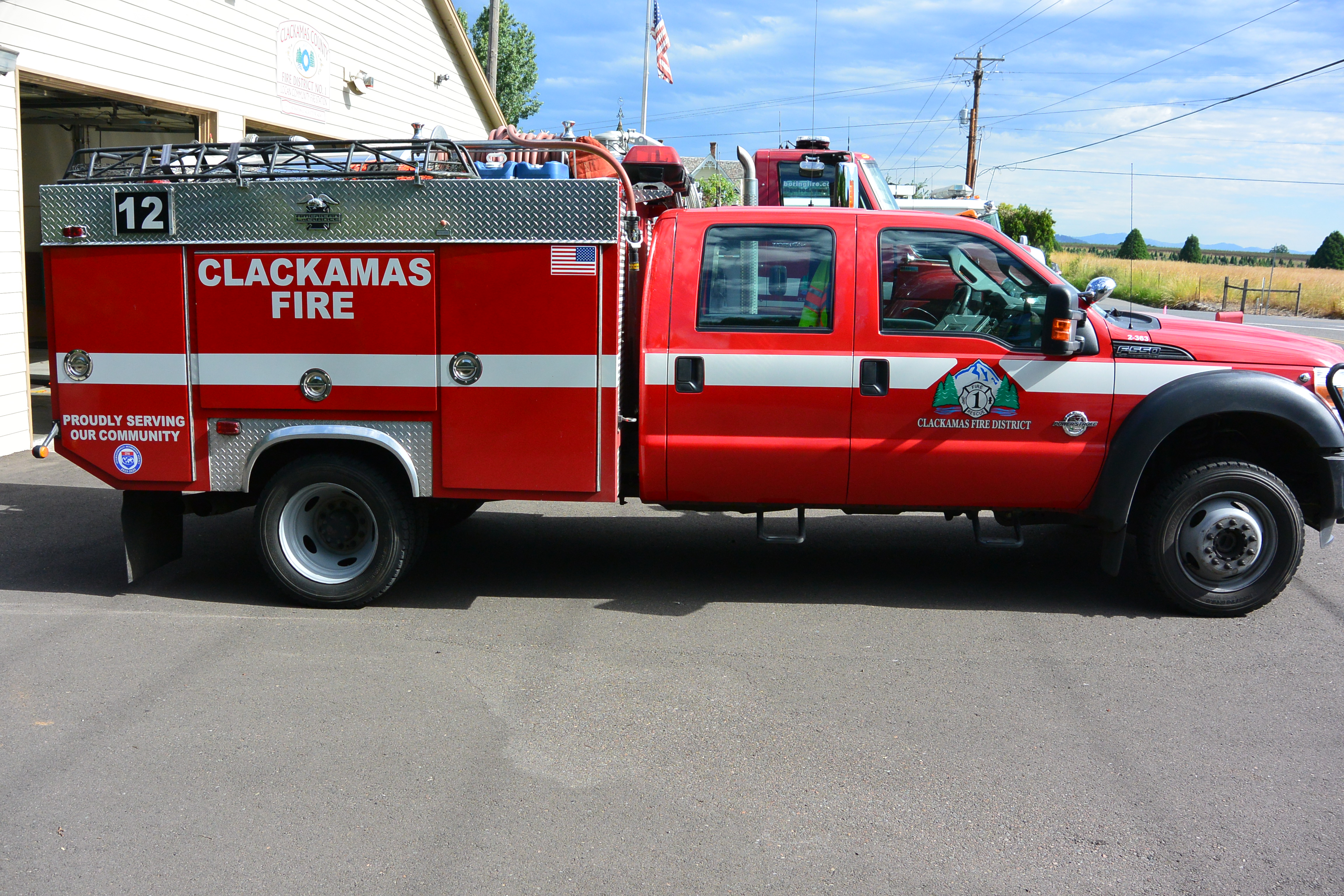 Brush rigs are small, lightweight, four-wheel drive vehicles that are able to get off-road and fight fires where larger firefighting equipment cannot go. Brush rigs are primarily used during the warmer months for grass and brush fire suppression.
Brush rigs have a small water tank, pump and hoses as well as other firefighting tools such as axes, chainsaws, rakes and shovels.
When dispatched to a brush or grass fire, brush rigs typically respond alongside a fire engine. Since the brush rig has a smaller water tank, having a fire engine alongside allows access to a larger water tank if needed.