Wellness Program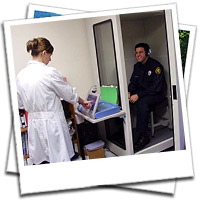 Clackamas Fire District #1 has addressed the need for health and wellness by offering an in-house, comprehensive wellness program.
The Wellness Program takes an individualized approach to improve the health, fitness and longevity of all personnel.  Specifically, the Wellness Staff interact with firefighters, staff and volunteers to promote positive lifestyle changes. The program is designed to be positive, non-punitive and address all aspects of wellness.
The main components of the program are:
Medical Evaluation
Physical Fitness
Injury Prevention/Rehabilitation
Disease Prevention/Education
Behavioral Health
Data Collection
The Wellness Program is successful due to the support of both management and labor. Staffed with a Wellness Manager, Health Educator, Athletic Trainer, and Medical Assistant, the program is tailored to meet the needs of individuals in a confidential way. This proactive environment offers employees and volunteers a variety of services that enhance their health.
For more information about the Wellness Program at Clackamas Fire District #1 contact:
Heather Goodrich
Wellness Manager
503-742-2686
► CONTACT US