Public Education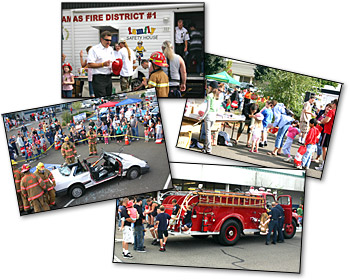 Each year, fire kills more than 2,570 people and injures tens of thousands of others in the United States. Fire related fatalities are higher in the United States than most other counties. Children and the elderly are particularly vulnerable to fire.
Clackamas Fire District #1 is committed to providing quality fire and life safety education in an effort to reduce this high number of fatalities and injuries nationwide related to fires. Clackamas Fire District #1 believes a proactive approach in fire prevention education is the best way to reduce fatalities and injuries and the $9 billion in property loss nationwide annually.
Clackamas Fire District #1, through community outreach programs, educates thousands of children and adults each year on how to keep their home and business safe from fire. Proactive fire and life safety education is taught by certified fire educators at over forty elementary schools throughout the fire district annually. In addition, fire educators educate hundreds of elderly citizens at many of the fire district's large senior assisted living communities.
Clackamas Fire District #1 also uses the Risk Watch program. Risk Watch is the first comprehensive injury prevention program available for use in schools. Developed by the National Fire Protection Association (NFPA) with co-funding from the Home Safety Council™ and in collaboration with a panel of respected safety and injury prevention experts, Risk Watch gives children and their families the skills and knowledge they need to create safer homes and communities.
Clackamas Fire District #1 has several annual public safety fairs where citizens can meet their firefighters and paramedics in person and witness first hand many fire safety and injury prevention demonstrations. Some of these demonstrations include auto extrication, advanced emergency medical treatment and equipment demos and a high tech fire safety house that demonstrates the importance of working smoke alarms.
More information on public education opportunities is available by contacting the Fire Prevention Division at 503-742-2660.